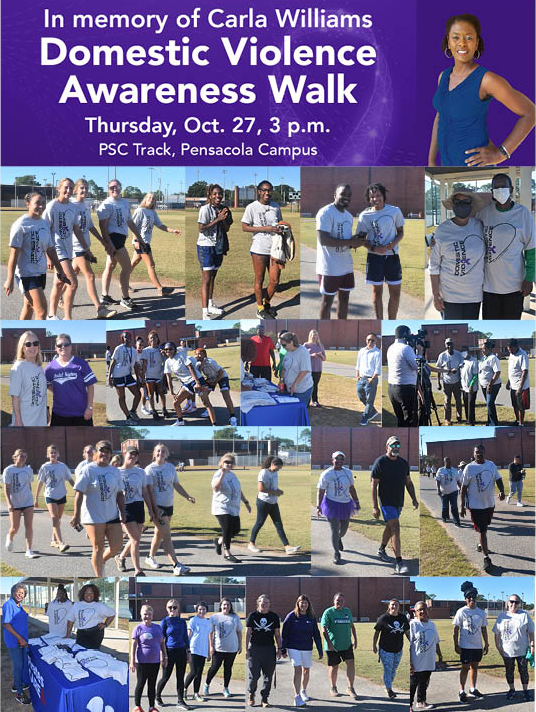 It was another reminder that their beloved Carla Williams was gone.
Still, the family of the Pensacola State College Pirate legend knew they had to walk through the pain. After all, they and so many others were walking to raise awareness about the trauma and tragedy of domestic violence and raise scholarship funds in Williams' name.
Williams, an associate professor at the College, died in May due to domestic violence.  On Thursday, Oct. 27, members of the Williams' family joined Williams's PSC family and other community members and friends for a Domestic Violence Awareness Walk on the PSC Track at the Pensacola campus. The event raised money for the Carla Williams Memorial Scholarship Fund which was established after her death.
"It's hard, but events like this are necessary,'' said Pamela Williams, one of many of Carla's family members who attended the event which was organized by PSC Pirates CARE. "Carla did so much in the community and meant too much to so many people, so it's important that we honor what she has done. We press through because the cause is so important."
Williams spent more than 24 years working in PSC athletics, Collegiate High and the Mathematics and Computer Science Department. A standout basketball player, she played two years at PSC where she was selected to All-Academic, All-Conference and All-Region teams both years. After PSC, Williams played at Florida State University.
She came back to PSC to teach and serve as an assistant coach to legendary basketball coach Vicki Carson. Williams was inducted into the PSC Athletics Hall of Fame in September. Carson is also a previous Hall of Fame inductee.
Money for the Carla Williams Memorial Scholarship Fund was raised through event registration and T-shirt fees. More than 40 people pre-registered for the event, said Jessica Johnson, PSC's Director of Wellness Services, which is part of PSC Pirates CARE.
"We want to raise money for the scholarship and make people aware of domestic violence and its negative effects,'' Johnson said. "We've been trying to let people know about the resources we have for survivors, friends, family and advocates. We hope people find comfort together and will be determined to take a stand against domestic violence."
The walk was the last event of Domestic Violence Awareness Week at PSC. Other events included a ReachOut event on the Warrington campus and a workshop on domestic violence on the Pensacola campus.
To contribute to the Carla Williams Memorial Scholarship, visit https://athletics.pensacolastate.edu/Carla-Williams-Memorial-Scholarship-Fund.