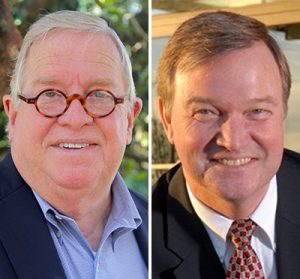 Jerry Maygarden and Ted Kirchharr
Two notable Pensacola State College alumni are in the news with separate achievements. Jerry Maygarden, at left in photo, is receiving the highest distinction awarded by Junior Achievement. On Nov. 5 he will become a Junior Achievement Hall of Fame Laureate, an honor that recognizes individuals in the community that are the greatest champions of youth financial literacy and workforce preparedness. In the meantime, The City of Pensacola has selected Ted Kirchharr, at right in the photo, to fill the Human Resources Director position, responsible for managing the city's human resources programs including training and development, performance management, staffing and more.
Maygarden received an AA in liberal arts from the College, then known as Pensacola Junior College, in 1972. Kirchharr attended PJC from 1971-1974 and earned an AA in History.
"As a first-generation college student, PJC offered me an opportunity for a great education here at home," Kirchharr said. "I made life-long friends, developed my leadership skills by being involved with student government and was well prepared for my time at UWF. I would not be where I am today had it not been for PJC."