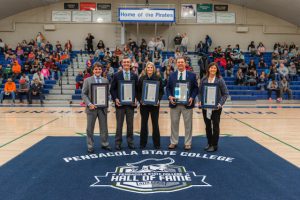 By Troy Moon, Pensacola State College
There are five new Pirate legends whose swashbuckling tales of athletic success and glory, and stories of unwavering support for Pensacola State College, are now forever enshrined in the college's rich history and lore.
Inducted into the PSC Athletics Hall of Fame in a ceremony at Hartsell Arena on Feb. 22 were Vicki Carson, iconic women's basketball coach; Brenda Peña, former PSC softball coach and player; Donn Peery, longtime PSC athletic director; Doug Bates, former PSC baseball standout and PSC Foundation past-president; and Dan Shugart, longtime PSC supporter and advocate and veteran WEAR-TV sports director and anchor. (After his induction by PSC Athletic Director Bill Hamilton, Shugart took over master-of-ceremony duties and inducted the other four.)
A large crowd cheered loudly for the 2020 inductees during the ceremony, which took place between the women's and men's basketball games against Northwest Florida State College.
Peña summed up what many of the inductees felt:
"It's a fabulous evening for a lot of people," said Peña, the first PSC softball scholarship recipient. "This is my family. It's where I played ball and where I coached and where so many of my friends are. I had so many wonderful women come through our program. It is a culmination of a lot of people's efforts. I just get to accept it for everybody."
Peña had been a star athlete at now-closed Woodham High School when she came to Pensacola State College as a student-athlete, graduating in 1982. She then transferred to the University of Florida where, as a player, she was a member of the Gators state championship team, which finished third in the NCAA tournament. As player and coach at PSC, she has 924 combined wins and was the 2003 Panhandle Conference Softball Coach of the Year.
Both Peña and Carson's influence on their players was found in the stands during the induction ceremony, as former players had come from across the nation to support the women.
Before the ceremony, Carson pointed up to the upper bleachers, filled with her former players.
"I've got the '80s, the '90s and the 2000s up here from all over the country," she said. "That's my reward. These are my children."
Carson spent nearly 35 years at Pensacola State with 25 of those years (1985-2005) as the Lady Pirates' head basketball coach.
During her tenure, her teams won the 1985 Florida College Athletic Association (FCAA) State Basketball Championship and she was named FCAA Coach of the Year. She compiled a 515-189 record and had a national tournament appearance.
The Lady Pirates under Carson's helm also made 15 State Final Four appearances, was a state championship runner-up and won nine Panhandle Conference Championships.
Iris Mendenhall-Wiegand, who played for Carson's Pirates from 1986-1988, came from Michigan to see her coach honored.
"She's like another mom to me, and she would do the same thing for us," Mendenhall-Wiegand said. She smiled recalling her coach's sometimes grueling coaching style.
"She loved to run us," she said. "But it was worth it in the long run. It helped us move to the next level."
Bates said he felt "gratitude" for the Hall of Fame honor because of his love for the college – and Pensacola as a whole.
"I'm grateful for the opportunity I had to be a student here and play baseball here," he said. "And then to be able to come back here to Pensacola to raise my family. That's what it means to me."
And his arm is still strong. Earlier, he threw batting practice to a team of youth players he coaches.
"The arm feels great," he said. "Ready to go."
Bates is a 1998 PJC graduate who played two years on the college's baseball squad. From PJC, Bates joined the Birmingham-Southern College Panthers and played in the 1999 and 2000 NAIA World Series tournaments. He set a national record in hits by pitches for the NAIA in 2000, a record he is proud of because he helped his team by getting on base.
While a student-athlete, Bates was selected an NJCAA Distinguished Academic All-American in 1997 and 1998, received the national Lea Plarski Award in 1998, chosen for All Conference Teams in 1998 and 2000 and named an NAIA Academic All-American in 2000 while playing for Birmingham-Southern College.
Shugart, a UCLA graduate, has covered Pensacola State College athletics since 1981.
He began his broadcasting career in 1980 when he took a part-time reporting job at WBSR-1450 AM in Pensacola. That fall, he was the play-by-play announcer for the Pensacola Wings semi-pro football team, which led to his hiring at WEAR in March 1981. He was promoted to sports director in December 1982.
He has also freelanced for WSRE's broadcasts of Pensacola State basketball and baseball.
Shugart coached youth basketball and was inducted into the Pensacola Sports Hall of Fame in 2006.
"It's huge," Shugart said of the PSC induction honor. "I was thinking about it today." He said the biggest honor is "the relationships over the years and all the dear friends I met here. That's what it really means, and it means a lot."
Peery, who lives in The Villages, Florida, was unable to attend the induction ceremony.
But he was honored for his longtime commitment to PJC/PSC and his leadership at the college.
A 1957 Pensacola Junior College graduate, Peery is a military veteran – having served in the U.S. Army as a police officer.
He taught physical education in Miami public schools for seven years before joining Miami-Dade Community College.
In 1978, he returned to Pensacola State as the Director of Athletics. Over the next 21 years, he also served at Physical Education Chairman, District Dean of Student Affairs, Interim Vice President of Academics and Provost of the Community Campus.
Peery also was the Panhandle Conference Chairman of Athletics for 15 years, vice president and president of the FCAA, a member of the executive board for National Alliance of Two-Year College Athletic Administrators and the founding president of the Florida Council of Athletic Affairs.
Peery retired from Pensacola State College in 2000. He had worked 37 ½ years in Florida's public education system ─ 31 ½ of that time in the Florida Community College System.
PSC's first Athletics Hall of Fame honorees were inducted in 2019. The inaugural inductees from that class are:
Dennis Lindsay, former basketball coach.
Bob Marlin, former basketball coach.
The late Mary Bailey, first softball coach.
Jim Donovan, golf coach.
Dana Gilmore, most decorated PSC female athlete – softball and volleyball.
Joel Anthony, PSC basketball star played for five NBA teams.
Greg Litton, baseball player who also played for the MLB.
The late William M. "Bill" McArthur, local youth sports advocate and educator.
Charles Fairchild, former PSC basketball standout and athletic booster program charter member.
Dr. William "Bill" Brantley, former PSC educator and longtime athletic program supporter.