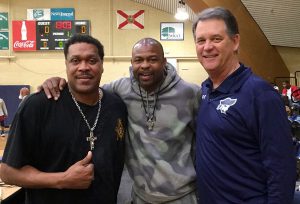 By Mary Mabins, Pensacola State College
It was a homecoming of sorts at Tuesday's night matchup between the Pensacola State College Pirates and Coastal Alabama ─ Monroeville Eagles.
Former PSC Pirate basketball standout Glover Jackson was in the stands. For those who don't remember, Jackson was a member of the College's 1993 NJCAA Division 1 National Championship team coached by Bob Marlin.
Jackson, a center, went on to play for the LSU Tigers and then spent three years with the world-famous Harlem Globetrotters.
"It's so good to be back home, I love Pensacola," said Jackson, who now lives in Winnipeg, Manitoba. "I came down to visit my godson, Chris James, and decided to catch a game. I wanted to see how the College has grown and let them see how I've grown."
Jackson also played professional basketball in the Canadian basketball league, the Continental Basketball Association, Independent Basketball Association, International Basketball League and Conference Basketball League.
"I've been all over the world – 18 countries, I believe, and met some wonderful people, coaches, enjoyed some delicious food," said Jackson, who claims Mississippi and Chicago as his "native" homes.
Despite all of those experiences, Jackson said Pensacola and Pensacola State College remain near and dear to his heart.
"I remember Coach Marlin coming to my house in Vicksburg (Mississippi), and I could just tell he was genuine and had my best interests at heart. And my mama has a lot of respect for him as well," said Jackson, a Warren Central High School graduate.
When asked why – other than Marlin – he chose Pensacola State College, Jackson laughingly said "the beaches." But he admitted it was so much more than the tourist attractions and the scenery.
"I really honed my foundation at Pensacola State. As for our team, we may not have been friends off the court but when it came to game time, we became one," he recalled. "It was all about teamwork, and the importance of teamwork is something I have carried with me throughout my career."
Before the basketball game, Jackson had the opportunity to visit with another champion: Roy Jones Jr. was in the stands. The boxing great's son, Roy Jones III, is a freshman guard for the Coastal Alabama – Monroeville Eagles.
Bill Hamilton, the College's athletic director, said it is always good for former students and student-athletes to visit.
"Glover went on and had fantastic collegiate and professional careers. He went from us to LSU, to the Globetrotters and then into other leagues," Hamilton said. "We're always excited when they come back to the school for a visit. It's always good for our student-athletes to hear from former athletes who have been where they are now."
The College may be seeing more of Jackson, who is now retired and is committed to helping the next generations of student-athletes.
"I mainly focus on basketball camps for youths because I know how important it is to give back," said Jackson, who majored in early childhood development in college. "But I may move back here. I get here every couple of years and Pensacola is as beautiful as ever. I don't know yet, but I am thinking about it."
Jackson also has one more goal – he wants to still be able to dunk a basketball at age 50.
"I'm 47 now, but I still have some moves," he said with a smile.