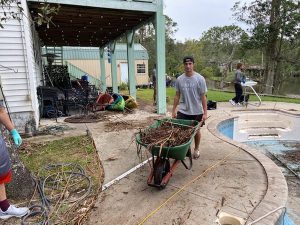 Mary Mabins, Pensacola State College
Superheroes don't always wear capes – sometimes they wear Pensacola State College T-shirts and athletic gear.
Recently, more than 50 Pensacola State student-athletes and coaches came to the rescue of local families whose homes and properties were devastated by Hurricane Sally. The category 2 hurricane hit the Florida Panhandle and coastal Alabama on Sept. 16 bringing wind, rain and storm surge.
Since Sept. 18, members of Pensacola State Athletics have helped at least 25 residents clear debris, remove fallen and cut tree limbs and waterlogged furnishings and other items from their homes and property, said Pensacola State baseball coach Bryan Lewallyn, who spearheaded the effort.
"I'm proud of all the student-athletes who have worked tirelessly going from one house to another, working in the rain, helping people who they will never see again," said Lewallyn, who initially put out a Facebook call to residents letting them know PSC student-athletes were available to help with cleanup.
"We recognized there was a need in our community," he said. "And as an institution, our target is the community and not something we want to only serve from an education standpoint, but whenever there is a need."
Softball coach Lynsey Angus and assistant basketball coach Sagar Kapoor and their players also volunteered along with the baseball team in the cleanup.
The student-athletes were a godsend for Terri Maxwell and her husband, Melvin, who live in Lake Charlene subdivision in West Pensacola.