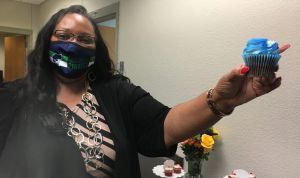 Troy Moon, Pensacola State College
Come Monday, Nov. 2, Rhonda Likely isn't sure what she's going to do.
For 38 ½ years, she's worked at Pensacola State College and has been assistant director of Human Resources for many of those years.
But on Nov. 2?
"I'm going to get up and probably won't know what to do with myself,'' Likely said. "I'm so used to waking up and driving this way. I'm probably going to have to re-program my car because it's so used to making the drive."
Likely, a PSC alumna herself, retired on Friday, Oct. 30. Her co-workers celebrated with gifts and cupcakes.
"We love her,'' said Human Resources Employment Specialist Tanesha McCreary. "She wasn't just our supervisor. She was a mentor and friend to us. And she loved PSC. It won't be the same without her. Definitely not."
Likely is a Pensacola native who earned a bachelor's degree in management from the University of West Florida, where she worked briefly before landing a job at PSC as an administrative clerk in the Business Department. She was transferred to Human Resources in 1996, working her way up to Human Resources assistant director.
"I'm going to miss everything about PSC,'' Likely said. "I love the people. I absolutely love the people. I've developed friendships here that will last a lifetime. The people I work with aren't just coworkers, they're friends."
Human Resources Director Tammy Henderson called Likely her "confidante."
"She's a rock and always has been,'' Henderson said. "She's stable, dedicated, strong and trustworthy. We're going to miss her very much."
Human Recourses Specialist Monica Williams said Likely "is like a mother to everyone in the office. She wants you to do well in everything you do. She wants you to succeed."
Will she miss Likely?
"I miss her already and she's still here."
Though Likely isn't quite sure what she'll do on her first day of retirement, that doesn't mean she is without a plan.
She is very involved in her church, Mount Carmel Baptist Church, which is pastored by her husband, the Rev. Robert Likely.
"There will be a lot of church work,'' she said. "I love babies and I love senior citizens. A lot of my seniors, especially in this pandemic, are confined at home and aren't able to get out. So I call them and talk to them and keep in touch and try to give them hope. I let them know that they need to keep energized and hopeful and know this is not the end of the journey. You just want to give them hope."