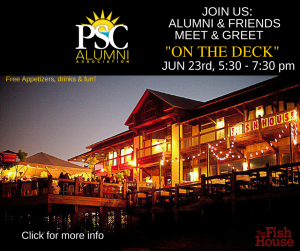 Join us for a PSC Alumni & Friends Meet and Greet
Thursday, June 23, 2016
5:30 to 7:30 pm
at The Fish House Deck, 600 S Barracks St, Pensacola (map)
When: June 23rd, 2016 | 5:30 – 7:30 pm
Where: The Fish House, 600 S. Barracks St, Pensacola
Who: Hosted by fellow Alumnus, Dave Collins and sponsored by the owner, Collier Merrill.
What:  Free Appetizers, Drinks, and Fun!
Calling all Alumni and Friends! Join us "On the Deck" at Pensacola's The Fish House for our upcoming Alumni Meet & Greet. Expect food, fun and fellowship. Bring a guest and share the experience.
Each attendee must register to receive (compliments of owner Collier Merrill):
Two complimentary drink tickets (must be 21 or over for adult beverages)
and "Chef's Choice" hors d'oeuvres
Space is limited. Register today online today and guarantee your place. 
See you there!
[dt_slideshow posts="fish-house-6-23-16″]