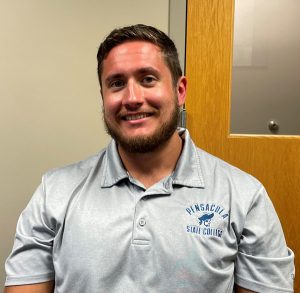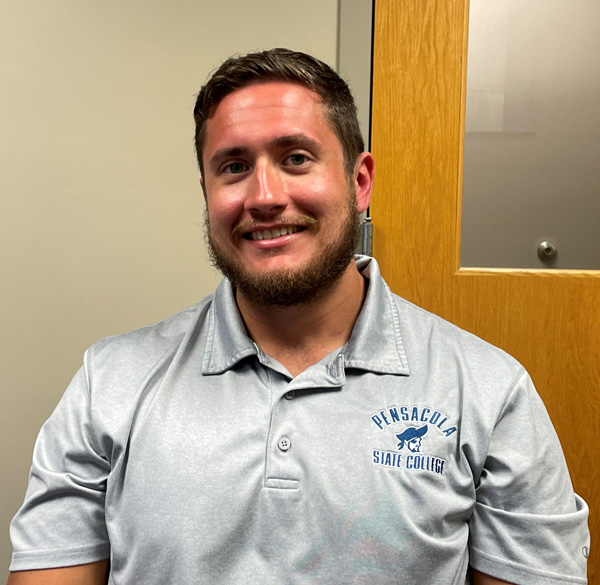 When Zack Potts was a Pensacola State College student, he didn't really know that much about all the financial aid opportunities available to students.
Now it's his job to let PSC students and prospective students know about the many ways to receive financial assistance to attend the College.
Potts became a PSC financial aid specialist in March, just weeks before his May graduation where he earned a Dr. Marjan Mazza Bachelor of Applied Science degree in Business and Management. He previously earned an Associate of Arts degree from the College in 2018.
"I really want to give back and pass on the enthusiasm and spirit I felt at PSC,'' said the recently married Potts. "I want to help students figure out their financial aid eligibility and help get them into college."
While a PSC student, Potts said he probably wouldn't have qualified for a Pell Grant but might have been able to get a scholarship. After all, PSC offers so many.
"Currently, we have 285 scholarships,'' he said. "There are so many opportunities for students to attend school here and so many degree programs to choose from. PSC is definitely for everyone."
Potts is from Orlando and moved to Pensacola eight years ago.
He hopes to someday teach business classes and inspire students the same way PSC business instructor Brian Ward and Assistant Professor Michael Payne did for him.
"Anytime things got rough, they motivated me to keep going,'' Potts said. "I want to be able to do that for other students."
PSC Financial Aid Director Joanne Rozborski said Potts is a welcome addition to the team.
"Zack has a welcoming smile and positive attitude,'' she said. "He easily relates to our students and ensures they receive the assistance needed. If he doesn't know the answer, he personally reaches out to the appropriate person in order to provide accurate information."
Potts and his wife, Danielle, enjoy going to the beach and cooking together.