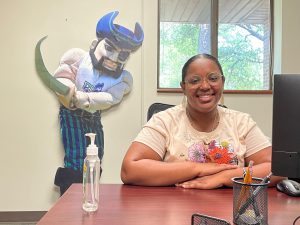 Tyra Henderson started out at Pensacola State College as an EKG student, earning her certificate in the health care field in 2016.
She worked in health care for a few years, but when the pandemic hit, she said she just "couldn't take it anymore."
"I was steered into health care because of the job market,'' Henderson said. "But it wasn't for me. I always wanted to be in academics."
Now, Henderson is the newest PSC Student Services Adviser on the Milton campus. A part of her job is to help students navigate the best academic and career paths, so they don't end up in a field that they really don't want to be in or aren't really suited for."
"I think my background makes me a good fit for this job,'' Henderson said. "I've been in their shoes, especially financially. I'm a first-generation college student. I had to go to a college that was affordable, so I went to Pensacola State College. I'm glad I did."
Henderson returned to PSC a few years after earning her EKG certificate and received her Associate of Arts degree in 2020. She wanted to earn a bachelor's degree, and, with PSC's affordability, decided to pursue a degree in business. She earned her Dr. Marjan Mazza Bachelor of Applied Science in Business and Management – Health Care Management in May.
She was one of the students on PSC Assistant Professor Michael Payne's Strategic Management class team that finished first in the world in "The Business Strategy Game,'' for the week of April 4-10, 2022, among more than 5,000 teams spread across the globe. The online game features teams running a fictional athletic footwear company.
"I loved Dr. Payne and I loved his class,'' she said. "He is one of the people who will give it to you straight. He puts you in real-life situations and he shows you how to navigate the challenges through his teaching."
Henderson said her main goal in her new position is "to help people. I want these students to know there's nothing stopping them from accomplishing what they want to. PSC is affordable and there are so many financial aid and scholarship opportunities available. PSC wants to help people come to the College and succeed here."
Henderson graduated from Pensacola High School in 2013. She grew up in Pensacola but most of her family comes from Alabama, with many family members still residing across the state.
Her hobbies include reading, cooking and "anything to do with family."