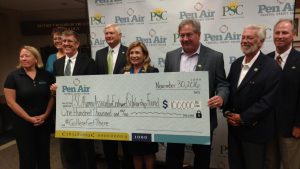 We received great coverage from Dave Dunwoody At WUWF!
For many, Pensacola State College is the first step towards acquiring a higher education. As of Wednesday, they're getting a six-figure boost from Pen Air Federal Credit Union.
While the $100,000 gift represents a nice, round figure, it has another significance for the school. When the next class graduates in a couple of weeks, the number of graduates will exceed 100,000 since opening in 1948 as Pensacola Junior College.
"We believe and we know that this will help further the mission of the school," said Stewart Ramsey, Pen Air CEO. "And also have an impact on those students, and ultimately have an impact on the community."
The money is going to the PSC Alumni Association's Endowed Scholarship Fund. After the brief ceremony, Ramsey spoke of his firm's commitment to education in the region.
"Having a good strong education makes a stronger community," Ramsey said. "Also [it] provides us with great opportunities to hire locally when we have educated people."
Read more at the WUWF article link below.
Thanks to Dave Dunwoody and WUWF for the story and photo.