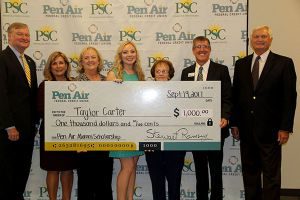 It was standing room only when Pensacola State and Pen Air Federal Credit Union employees gathered Tuesday, Sept. 19, for the naming ceremony of the Pen Air Federal Credit Union Classroom in the Edward M. Chadbourne Library.
In November, Pen Air donated $100,000 to Pensacola State to coincide with the college's celebration of surpassing more than 100,000 graduates. Pensacola State reached that milestone during the December 2016 graduation.
The gift also named Room 2051 the Pen Air Federal Credit Union Classroom. The nearly 2,000-square-foot digitally-enhanced room will host financial literacy classes and seminars to Pensacola State students, Pen Air members and the community.
Also on hand for the ceremony was Taylor Carter, the first recipient of a $1,000 Pen Air Federal Credit Union Scholarship. In partnership with Pensacola State and the PSC Alumni Association Endowed scholarship initiative, the Pen Air Federal Credit Union Scholarship Fund was established.
"I'm so thankful for the scholarship," said Carter, a dual enrollee, who earned her associate degree (cum laude) at 17 before graduating from high school.
The 21-year-old had been saving money to return to college this fall – but had only managed to accumulate enough for two classes. In 2016, she married Christian Carter and was not eligible for student financial aid.
"I knew I had to pay for my courses and that taking classes depended on how much I saved. All I could think was what am I going to do about books and what about next term?" said Carter who is pursuing a Bachelor of Applied Science in Business Health Care Management.
"Then I received a call that changed everything. Someone else believed in me too. Other people whom I have never met created a way to help."
A very active student while earning her associate degree, Carter served as president of Phi Theta Kappa and the Outdoors Club, vice president of Psi Beta, and secretary of the Student Government Association.
Stu Ramsey, president of Pen Air, said the credit union employees were honored to have a classroom at Pensacola State.
"As a community member, Pen Air is committed to enhancing lives and we believe Pensacola State College is in that same vein," he said. "They are the perfect partner for Pen Air. …And I believe this strong partnership will continue to grow."
Pensacola State President Ed Meadows added the partnership will have a tremendous impact on the community.
"For 69 years, Pensacola State College has been dedicated to the education of the citizens of our area, and for 81 years, Pen Air Federal Credit Union has been assisting their customers with their financial needs," he said. "Our two great institutions have now formed this great partnership to ensure those in need of educational and financial assistance will be well-served."
He added the naming of the Pen Air Federal Credit Union Classroom speaks volumes to Pensacola State students and staff, and community members about Pen Air's commitment to the education of PSC students.
"I envision a future high school student obtaining a scholarship from the Pen Air Endowment, walking into the Pen Air classroom for a world-class education and walking out with a degree and an opportunity to change the world," Meadows added.
Along with a delegation of Pen Air Federal Credit Union, PSC Board of Trustees, PSC Foundation members, administrators, faculty and staff turned out for the ceremony.