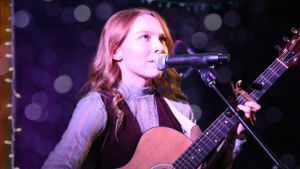 Troy Moon, Pensacola State College
Nancy Layne took guitar lessons at Pensacola State College. She also took a poetry class while at PSC. And both skills have helped her establish a footing in Nashville, (Music City USA) Tennessee, where she is a burgeoning singer-songwriter.
She recently released the single, "Understand It," which is available on Spotify and other streaming platforms.
"I loved PSC," said Layne, a Gulf Breeze native who earned her associate degree from the College in 2016. She has since earned a bachelor's degree in Music Business from Middle Tennessee State University. "I've taken classes at a few other colleges, and PSC has the best professors and great facilities. My whole family went to PSC."
Besides being a PSC family, Layne's family always was connected to music. Her father is a full-time musician who plays a lot in the Destin area, and Layne grew up surrounded by her father's musical friends, who she refers to as "like uncles."
"I was always listening to them play," she said from her home in Nashville, where the DIY musician also works as a bartender. "So I was into music from an early age."
Influenced by folk and Americana artists ranging from Crosby, Stills, Nash & Young to Jason Isbell, Layne's own style follows the well-worn singer-songwriter path that has never gone out of style.
Like those artists, Layne's own songs are filled with thoughtful, introspective lyrics that prompt reflection and thought, such as this passage from "Understand It":
"Cassiopeia glittered north 

Beyond the great divide

And each tiny thing enraging me 

Was small against that sky 

If they were small then I was small 

I took that thought and banned it 

And shrank the universes size 

So I could understand it"
Layne credits a poetry class at PSC with instructor Jamey Jones with helping her with her word craft.
"It was a great class and I learned a lot," she said. "I'm really glad I had that class and (Jones) was a great instructor."
She also credits PSC guitar instructor Joe Stallings with helping her become proficient on guitar. When she started at PSC, she could play a few chords, but not much else.
"He is a huge influence on the way I play," Layne said, referring to the classical style Stallings taught. "Even today I don't use a pick. I still use a lot of the techniques he taught me."
Layne had previously recorded other songs – "Water," "Statues Don't Move" and "The Cat, the French Press, and the Shower," which also are available on streaming services.
She said she relocated to Nashville so as to hopefully build a name for herself and was frequently performing around the city before the COVID-19 shutdown.
"If you want to play original music, you have to go to a city that appreciates original music," she said. "There are a lot of really great musicians in Nashville. I'd like to go out eventually and play venues across the country. But at this point, I'm ready to do more recording as soon as possible."
To listen to Nancy Layne's music, go to https://open.spotify.com/artist/1ucYZLT3J2D1Zte3Si4ypB.
PHOTO AT TOP: Nancy Layne in performance. Photo by Haley Smith