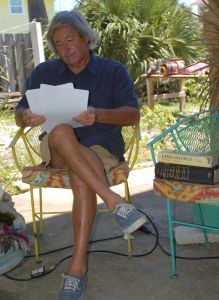 Troy Moon, Pensacola State College
Charlie Schuler seeks the beauty of the world, whether in art, language or the lonely sea.
The Pensacola State College humanities professor teaches students the classics and educates them on Latin, the history of Greece and Rome, as well as philosophy, art and the elements of academics that provide a certain refinement to education.
But Schuler isn't teaching this summer. The beach is calling.
The lifelong surfer, who lives on Pensacola Beach, is spending as much time as possible enjoying the Gulf of Mexico. (In January, Schuler placed third in the Men's Longboard category at the Waterboyz Winter Classic.)
"We had a good run," Schuler said of the previous day's surf. "When you step away from the shore, for a while at least, you step away from the mundane world."
It's the same beauty Schuler tries to instill in his teaching.
He recalled what a Japanese engineering friend said when Schuler asked the man why he was teaching his children Latin.
"He said 'It adds elegance to your education," Schuler said. "And that's a perfect answer."
Schuler has been a Pensacola State College instructor since 1990, after previously teaching Latin at Escambia High School. In 1989, he was named the Escambia County School District Teacher of the Year.
A graduate of Choctawhatchee High School, Schuler would go on to attend the Historically Black College South Caroline State University on a swimming scholarship. He was one of the few white students at the school, and his experience prompted him to write a novel based on his experience at the South Caroline State University. He attended the school just three years after the infamous "Orangeburg Massacre" when South Carolina law enforcement officers killed two university students and a high school student who were protesting the segregation of a local bowling alley.
"Those were ugly times," said the 67-year-old Schuler. "My novel is about racism and, specifically, coming to terms with my own racism."
Schuler attended South Carolina State University for two years before transferring to Florida State University, which is where he decided to pursue a career in education.
He said he knows that some students only take humanities courses because they're required, or because they think it will help get them into law school or medical school.
"I tell them if they think Latin is going to help them (get into law or medical school), there are lots of doctors and lawyers who have never taken Latin. But it also helps with English grammar and vocabulary, since 80 percent of English comes from Latin. Students get exposure to the Greco-Roman world, which has contributed significantly to our own culture. They're exposed to art, literature, philosophy and language that helps them understand their own world."
And the elegance of that world.
"If they're interested in something we've studied in class, hopefully, they'll go back and read and research more," Schuler said. "In Humanities of the Western World, they're learning about everything from Gregorian chants to jazz music. They learn about the elements that give beauty to the world."