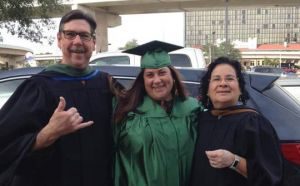 By Troy Moon, Pensacola State College
Pensacola State College's family tree has many branches. But only one branch has three Branches.
And the three – Butch and Jeanne Branch, and daughter Michelle Branch – are all graduates of Pensacola State College/Pensacola Junior College, as well as college staff and faculty members.
"All of us went to school here and earned a degree here," said Michelle, a PSC financial aid coordinator. "I went to the (PSC) Kids' College."
Even youngest daughter Ashley Cruz is part of the PSC family. She earned her cosmetology certificate at PSC 15 years ago.
"You can see how PJC, now PSC, is part of our family," said Butch, L.I.F.E. Fitness Center Coordinator at the Milton campus. "Our kids grew up here."
And now, most of the family works here – mother Jeanne Branch is an assistant professor and faculty member in the Business Department.
While Butch works on the Milton campus, Jeanne and Michelle both work on the Pensacola campus, albeit in separate buildings.
They don't see much of each other on campus during the week – each drives to work separately. (Butch and Jeanne live in Cordova Park, while Michelle lives near Davis Highway.)
"We usually don't see each other," Jeanne said. "But we do call and IM each other. And I have someone who is having a problem with financial aid, I call Michelle."
The family's association with the college traces back to 1976, when both Butch and Jean were serving in the U.S. Navy. It was Jeanne's father, a Navy recruiter, who advised Butch to enroll in a Navy program that would allow a sailor to enroll in classes at a college or university, and have those credits sent to the school of one's choice.
The couple knew that coming to Pensacola Naval Air Station was a good possibility, since Jeanne worked in aviation. So Butch enrolled in classes at a college in Puerto Rico while the couple was stationed there – they also married in Puerto Rico – with the credits being sent to his official school of record, Pensacola Junior College, which became Pensacola State College in 2010.
"Her father told me, and it was great advice, that I needed to continue my education and enroll in this program if I was going to follow his daughter around," Butch said. "I had never even heard of the program."
In 1978, just two years later, Jeanne received orders to Pensacola. By this time, Butch had left the Navy and became a true student of PJC.
"It was awesome," Butch said. "I had already picked PJC, and now I got to go to PJC in person."
In 1980, he earned an associate degree in Health and Physical Science, then earned a bachelor's degree, and later, a master's degree, at the University of West Florida.
Butch taught at PJC as an adjunct professor from 1986 through 1990 and was honored with a Teaching Excellence Award in 1989. His wife had received orders to return to Puerto Rico, so the couple left Pensacola for 16 months, returning in late 1991. He then returned to the college as an adjunct instructor, again being named a recipient of the Teaching Excellence Award in 1996.
In 1998, Butch became coordinator of the L.I.F.E. Fitness Center and Student Activities.
"I never thought I would come back to Pensacola and teach," Butch said. "It was never a thought. But it was just meant to be."
Jeanne retired from the Navy as an E-7 in 1996 after just-under 21 years of service.
"Suddenly, I was retired, and I had no associate degree, no degree of any type," Jeanne said.
She enrolled at then-PJC and earned as associate degree in Business in 1997. She then transferred to UWF where she earned a bachelor's degree (1999) and a master's degree (2002). Jeanne was hired as an accounting clerk at the college in 2003 and then promoted to Capital Outlay Accountant a year later. She was also an adjunct professor at the college for 10 years before being hired as a faculty instructor in 2012. Jeanne also has received Teaching Excellence Award.
"I used the GI Bill the whole way," she said. "(Butch) encouraged me, and if it wasn't for him, I might not be here at PSC today."
Michelle began working at PSC in 2011 as an assistant in the office of Tom Gilliam, the college's Vice President of General Counsel. Soon after, she moved to the Financial Aid Department, where she has consistently advanced and now holds the position of Financial Aid Coordinator.
Gilliam and others at PSC, along with her parents, urged her to further her education. She earned an associate degree in general studies from PSC in 2018 and is working toward a Marjan Mazza Bachelor of Applied Science Degree in Organizational Administration.
The Branches feels fortunate to be integral parts of the PSC family.
"The administration has always pushed us to try to expand our education," Jeanne said. "They've urged us to go for promotions. There's been nothing but support from everyone at PSC."
Butch said it's the caliber of staff that helps set PSC apart.
"The educational level of PSC is great," Butch said. "I had nothing but excellent instructors until I graduated and now, I work with a bunch of fabulous instructors. They're committed to helping their students succeed. It's just a great college and a great environment to be in."