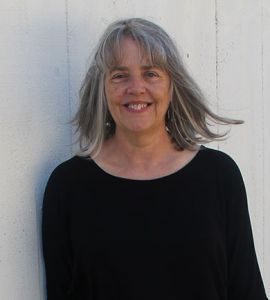 Paula Work believes that art is fundamental.
"I feel it's sort of a core thing that can help you learn about yourself – whether you become an acting artist or not," Work shared.
Work teaches drawing, painting and printmaking at Pensacola State College and strives to impart what she's learned – both as a student and an artist – to those who take her class.
A Tate High School graduate who says she grew up in Pensacola "for the most part," Work attended Pensacola Junior College from 1980-82.
"I really like this place, I think people don't realize how great it is," she said. "The art department here is really strong."
Work named several of her instructors at the time ─ Michael Boles, Sue Buck, the late Bill Clover, Don Hebert and Allan Peterson ─ who all encouraged and supported her. She credits them with providing her with a solid foundation that allowed her to move on to attend the prestigious School of the Art Institute of Chicago (SAIC).
"I was able to get a really good portfolio together.  My drawing instructor, Don Hebert, said, 'You'd better apply to a few schools because you won't get in everywhere," explained Work, "So I applied to Chicago and Kansas City (Art Institute) and Maryland Institute (College of Art) in Baltimore and I ended up getting into all of them."
She added all three schools offered her scholarships, but the SAIC's full-ride held the most appeal to her. Work said she was not intimidated by the school's prestige at all and commented, "I had nothing to be ashamed of when I went to that great school – I had a great foundation here."
After graduating from SAIC with a Bachelor of Fine Arts degree, Work remained in Chicago and used her creative talents for window displays and store merchandising.
"It was fun and everything, but I just wanted a deeper meaning to what I do … as an artist, I had a higher ambition, I guess, so I decided to go to grad school," she recalled.
While attending Western Michigan University in Kalamazoo on a graduate fellowship, Work tutored several Japanese students and was intrigued by the idea that no matter what their area of study, they were all able to communicate through art.
That realization led her to apply for the Japan Exchange and Teaching Program (JET) and as soon as she earned her master's degree, she was on her way to immerse herself in the Japanese culture.
"I liked that idea of doing something completely new," Work explained.
She was pleased to discover that Japan has a program wherein living artists are designated as "National Treasures." Work described, "The country supports their artists and I appreciated the fact that artists were able to pursue their crafts to a very high degree, and that even the government was aware of the contributions to the culture of Japan that these artists made."
Work completed the two-year JET program and decided to stay in Japan, where she met and married a local high-end restauranteur and continued to offer private drawing and language lessons.
"Japan was just a constant visual experience in everyday life," she said.
Work and her husband came to Pensacola to visit in the late 1990's and the couple decided to relocate to the States. They moved to Pensacola permanently in 1999.
Work hired on with Gayfer's department store as a merchandise display artist, but after meeting with Peterson, who chaired the art department from 1985 to 2005, she decided to come back to Pensacola State and teach a class, "Art for non-majors ─ it was a really great class," she said.
She served as an adjunct instructor from 1999-2014, but Work became full-time later that year after receiving the College's 2014 Teaching Excellence Award. Her work has been exhibited in The Art Institute of Chicago and at galleries in Chicago, Michigan and Japan, as well as locally at the Artel Gallery.
Work said she doesn't do a lot of shows and clarified, "The creation is the thing for me and after that, I really don't care."
Work believes Pensacola State offers students an opportunity to live at home and save money while building their foundation to go on to prestigious art schools.
"Any of those schools are very competitive to enter, so if you are going to try to go right out of high school it's unlikely that you're going to have a very good portfolio," she explained. "You could develop a very strong portfolio here and be ready to go in as a junior or sophomore and if you're good enough you'll get scholarships that way, too."
Work added she has seen some of her students stay at Pensacola State to earn their bachelor's degree.
"A lot of students are very interested in our four-year graphic design program now because they want to stay here," she said. "Once they get here, they don't want to leave."
While teaching the basics of drawing is her job, she hopes that she is able to reach her students beyond just being their art instructor.
"I wish students would look at the big picture a little more. I think they get too hung up in their daily lives – we all do that, right?" related Work. "The way I look at it, no matter what you end up doing, your time here, I want it to end up becoming part of the fabric of your life."