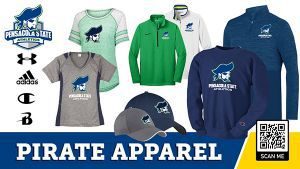 Pensacola State College's Pirate fans can now purchase athletic apparel and other items from the comfort of their home, office or anywhere with a Wi-Fi connection.
Online retailer, Squad Locker, has an array of Pensacola State Athletics apparel including hoodies, T-shirts, polo shirts, caps, shorts, stadium seats, blankets, footwear and more. Located at https://teamlocker.squadlocker.com/#/lockers/psc-pirates, items come in men's, women's and children sizes, and the site includes free shipping for orders over $149.
Each Pensacola State Pirate gear purchase also will benefit the College's athletics program, said Hailey Lotz, coordinator of Booster Operations.
"We receive 15 percent of all sales and that rebate goes directly back into our athletics programs," Lotz explained.  "It is an easy and convenient way for alumni, boosters, students and employees to find many types and styles of Pirate apparel, plus it helps our student-athletes."
Squad Locker has the licensed Pirate logo apparel from Nike, Russell, Champion, Under Armour, Adidas, Sports-Tek, Augusta, Mizuno, Port & Co., District, Badger and Holloway brands.
Pensacola State's Athletics Director Bill Hamilton said Pirate fans can have items personalized.
"This is a great way for members of the Pirate Nation to get their hands on some gear – no matter where they live," Hamilton added. "Our student-athletes come from all over the world, and our alumni live everywhere. What better way to show your spirit than by sporting authentic PSC Athletics wear…"
To order merchandise from Squad Locker, visit https://www.squadlocker.com and type "PSC Pirates" in the search field.