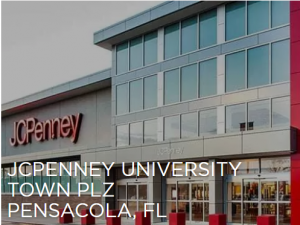 Pensacola State College cosmetology student Bernadette Harned is thinking of moving to Miami to start her career after graduating in December.
In the fancy-pants world of South Beach and much of Miami, you can't walk down the street without being judged on how you look and what you're wearing. You know, personal style and panache. So it's nice to have some fancy pants yourself.
Harned is definitely up for the Sunday, Oct. 6, Pensacola State College "Suit-Up" event at J.C. Penney in Pensacola. The retailer will offer 30 percent off all apparel, shoes and accessories from 6-9 p.m. just for PSC students, alumni and staff.
The store usually closes at 6 p.m. on Sundays but J.C. Penney's General Manager Joe Hebert is keeping the store open late for the PSC Pirate family.
And that 30 percent discount? That's also in addition to any other sale or clearance price listed.
"I'm a shopaholic so that's amazing,'' Harned said. "It's so important to look good when you're looking for a job. It's not even a vain thing. It's just the first thing people see is you, so you have to be presentable. You have to look the part or you won't get a second glance. So, I'll be there. That's will be fun. And I love J.C. Penney."
Deborah Hooks, the College's director of Career and Technical Education, contacted J.C. Penney to inquire about a "Suit-Up" event, which the retail store has hosted for other schools. But this is the first "Suit-Up" event for Pensacola State and Hooks hopes the event will send graduates to their jobs' interviews and job with a little more confidence and style.
"Working with our students, our office conducts mock interviews,'' Hooks said. "We see how they interview and see how they're dressed. Some of them don't have the proper clothing and don't present themselves the way you should in an interview."
She thought the "Suit-Up" event was a perfect way to continue to support students, even upon graduation.
"This is one of the last things we can do for them. And that's sending them out with proper attire," said Hooks who is even considering using Pensacola State students as human mannequins to display different outfits.
Hebert, who has been manager of J.C. Penney since 1995, said the event will be open to "anyone affiliated with PSC, anyone who went to PSC." He said J.C. Penney will provide free fittings and measuring stations.
"It's going to be a big night for suits,'' Hebert said. "We have lots of ladies' dress wear and professional attire. We have all they need to look good for their profession."
Hebert said there also will be hourly drawings for gift cards.
"It's going to be a fun night,'' he added. "And it's a huge discount to take advantage of, especially if you're a student and might have a limited income."
WANT TO GO?
The first Pensacola State College "Suit Up" event is set for 6-9 p.m. Sunday, Oct. 6, at J.C. Penney, 7171 N Davis Highway.
The event is open to all PSC students, staff and alumni. The retailer will offer a 30 percent discount on top of any other sale price during the event.