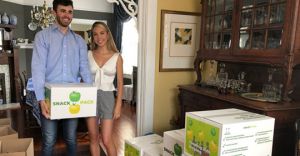 Mary Mabins, Pensacola State College
A Pensacola State College alumna is making a difference in the community by helping to feed those in need.
Kaitlin Santiago, a 2017 Pensacola State graduate, recently moved back home from Washington, D.C., because of the COVID-19 pandemic and, along with Andrea Dias – another former resident ─ started Snack Pack in April. So far, the two have delivered food boxes to more than 200 Escambia County and Santa Rosa County families in need.
The program initially began as a way to make sure children who depended on school breakfasts and lunches still received nutritious foods. The Snack Pack boxes are filled with enough fruit, vegetables, protein, snacks, water, etc., to feed a family for a week.
Santiago and Dias recently were spotlighted on WEAR-TV News 3.
"At the beginning of this crisis, I could tell there were a number of people who wanted to help, and I could also see that there were a number of people who needed help. I was trying to think of a way to bring those two together," said Santiago during her interview with WEAR-TV's Rebekah Castor.
Snack Pack is completely donation-based and Santiago and Dias received a grant from Pensacola Mayor Grover Robinson that will allow them to distribute more boxes in the city.
"With everything going on, just being able to be a relief in any way just makes your heart feel full," Santiago said during the June 27 interview.
The project needs more volunteers to serve even more families. Volunteers can sign up at snackpackkids.com/.
Santiago, one of the College's brightest stars, recently graduated from George Washington University with a bachelor's degree in philosophy and graphic design.
Since leaving the Pensacola State, she served as a marketing intern in Cape Town, South Africa, and was a lead product designer for Virtual Jane at the Jane Goodall Institute. Also, she founded Looking Glass Virtual Reality Organization at George Washington University.
At PSC, Santiago was an active and engaged student. In 2017, she was selected for the Florida House Internship Program in Washington, D.C. During the eight-week internship, she assisted the director of Florida House in its mission of showcasing education, business, arts, culture and hospitality.
She also had the opportunity to shadow members of the Florida congressional delegation.
She also was active in college politics. The Milton native was elected the Florida College System Student Government Association (FCSSGA) president in April 2016. The organization represents nearly 1 million students enrolled in the FCS's 28 institutions. As FCSSGA president, Santiago's responsibilities included acting as a liaison and an advocate for students.
In the 2015-16 academic year, Santiago was Pensacola State's SGA president. During her tenure, she founded Creative Solutions Committee – an entity that brings officers from various Pensacola State organizations together to share ideas and promote upcoming activities and events.
The 2013 Milton High graduate also was an intern for former Pensacola Mayor Ashton Hayward.
The daughter of Ramon and Natalie Ledesma, Santiago has three siblings ─ Cameron Ledesma, Jaden Ledesma and Mackenzie Ledesma.
"It's hard to help out whenever you're told to stay inside. I wanted to figure out a way to help children through this scary time," Santiago shared on her website, https://kaitlinsantiago.com/. "I finally thought of an idea and reached out to my now co-founder Andreas. Together we built a powered matching and delivery system named Snack Pack to help connect donors and families in need."
To sign up or volunteer for Snack pack, visit snackpackkids.com/.
PHOTO: Andrea Dias and Kaitlin Santiago have created Snack Pack, a food assistance and delivery service to help families in need. Photo courtesy of WEAR-TV.