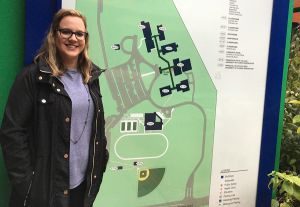 By Troy Moon, Pensacola State College
Darlene Mosley, a beloved Pensacola State College Milton campus instructor, doesn't remember Jennifer Hill Faron as a student. Which must mean one thing:
"She must have been good and paid attention," said Mosley, an associate professor in PSC's History, Language and Social Sciences Department. "The students I remember most are the ones who misbehaved."
Everyone on the PSC Milton campus knows Hill Faron now. The Milton native was named the campus' interim dean in August and she continues to hold the Director of Student Affairs position at the campus as well – a position she has held since February 2018.
And yes, she was a good student, albeit a quiet one, during her time at PSC Milton. In fact, she was a dual-enrollment student already taking classes at the Milton campus when she graduated from Milton High School in 2005. She would earn her general studies associate degree at PSC in 2006. (She also holds two bachelor's degrees from Florida State University in Interdisciplinary Social Sciences and Criminology; a master's degree in Higher Education Administration from Auburn University and is currently studying for her doctorate degree in Higher Education Administration from the University of Southern Mississippi.)
"I'm a first-generation college student," Hill Faron said. "I'm from Milton, born and raised in Milton. This campus has always meant a lot to this community."
Now in her early 30s, Faron Hill – a married mother of a 2-year-old daughter – is working to ensure her hometown campus is meeting the needs of its students and the community.
PSC President Ed Meadows said Faron Hill's commitment to the school and her community make her a great fit for the campus.
"Someone with her academic credentials could choose to go anywhere they want to," Meadows said. "So it's always great when someone from the community with the kind of success she has had comes back to that same community to try and make a difference. That says a lot about her."
Hill Faron said her experience at PSC helped prepare her for the rest of her academic career.
"I had a great support system," she said of her time at PSC. "I loved my classes and the professors. It was a great experience."
Hill Faron truly is a rising star, not just at PSC, but in the community at large.
She was selected earlier this year as a "Rising Star" by the local newspaper, InWeekly. Last year, she was nominated by the Girl Scout Council of the Florida Panhandle as one of 22 local "Women of Distinction."
Hill Faron is proud of the campus she now leads, even pointing out the areas of natural beauty that surround the campus.
On a picturesque balcony of the Milton campus' Massey Administration building, she points to the wooded areas where disc golf courses have been carved. Nearby are the axe targets used during the annual Northwest Florida Forestry Conclave Lumberjack Festival held annually at the Milton campus. The campus is veiled amid oaks and pines.
"Have you seen the gardens?" she asked, referring to the gorgeous garden at the north end of the campus containing various roses, exotic shrubs and a landscape of beauty. The gardens are maintained by the University of Florida, which has an agreement with PSC to use some of the classrooms and facilities for their two degree programs offered at the campus – Natural Resource Conservation and Plant Science. "It's really nice. Sometimes, students will go there to relax or unwind."
There are currently 1,083 PSC students enrolled at the Milton campus, which offers the same general studies courses offered at the Pensacola campus, as well as a cosmetology program and welding classes. The University of Florida has about 60 undergraduate students on the campus.
Hill Faron is working to ensure the campus is pristine for the Dec. 3 "Holiday Experience" – an annual fundraiser presented by PSC supporters Michael and Jo-Ann Price – which will take place at the Milton campus for the first time this year. New roofs are being installed on three buildings on the campus. (Yes, there were leaks.)
"It looks great," she said, looking at one of the new roofs. "We're really excited to host the Holiday Experience this year. It's a great opportunity to show off our campus."