Mike Ensley knows more famous people than you do. It's a fact.
But Ensley also has helped tens of thousands of Pensacola and Northwest Florida residents meet their pop culture heroes – from actors and musicians to professional wrestlers and authors.
Ensley, a Pensacola State College alumnus, is the founder and CEO of the hugely successful Pensacon comic/pop culture convention, an annual star-studded hootenanny that draws dozens and dozens of celebrities to town each year, along with tens of thousands of paying customers.
The 2022 Pensacon is from Feb. 18-20. Most Pensacon events take place at the Pensacola Bay Center, though some will take place at other venues throughout Pensacola.
Among the featured celebrity guests appearing this year are George Takei, Richard Dreyfuss, Lana Wood, Dylan McDermott, Giancarlo Esposito, P.J. Soles, Tom Arnold, Denis O'Hare, Michael Rooker, Samantha Mathis, Paul Jerricho and former boy band stars Joey Fatone (*NSYNC) and Nick Carter (Backstreet Boys).
Be sure to check out the whole lineup at www.pensacon.com. There's so much more – including Potsie (Anson Williams) and Ralph Malph (Donny Most) from "Happy Days"!
Past Pensacon guests include William Shatner, Jonathan Frakes, Nichelle Nichols, Anthony Michael Hall, Edward James Olmos, Weird Al Yankovic, Ed Asner and hundreds of other stars.
Ensley debuted Pensacon in 2014. A lifelong horror, comic and pop culture fan, Ensley had attended many other comic conventions across the country and wanted to do something similar in Pensacola.
"We had some smaller events here," Ensley said. "But no one did anything on a major scale. The time seemed right and people were hungry for it."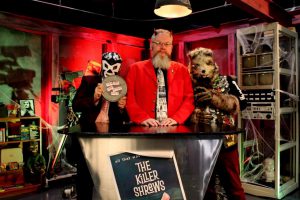 Pensacon has since become one of Pensacola's most popular community events, attracting thousands of locals as well as visitors from across the region and nation.
"We've done it right," Ensley said. "Our reputation precedes us, and we treat our guests very well. That's why we're able to get such great people to come. It's just continued to grow."
Ensley is also a television personality. He is one of the hosts of "Nightmare Theatre," a locally-produced PBS show that airs on PBS affiliates nationwide. Ensley portrays the "minor demon" Baron Mondo Von Doren and he and his sidekicks – the masked wrestler El Sapo de Tempesto (Chip Chism) and pet werewolf Mittens (Lemmie Crews) ─ introduce old horror films and offer humorous commentary on the movies. The show debuted in 2001 and in 2018 Ensley was inducted into the Horror Host Hall of Fame.
Ensley grew up in Pensacola and attended PSC – then Pensacola Junior College – from 1994 to 1996, earning an Associate of Arts degree. While at PSC, Ensley was Editor of the Corsair – the PSC student newspaper – for three semesters.
"We did really well in the (college journalism) competitions going up against bigger schools," Ensley said. "I spent a lot of time at the Corsair and I think we put out a pretty good newspaper. (PSC) was a great school with a lot of amazing teachers and instructors. I had tremendous mentors, like Thom Botsford, and it was a good experience all around."
After graduating from PSC, Ensley earned a Bachelor of Science in Social Science from the University of West Florida.
He worked a couple of jobs after earning his degrees, but these days his fulltime job is Pensacon.
"It's always hectic," Ensley said of organizing and overseeing Pensacon. "But we get into the New Year, it gets a little more hectic. But it's worth it. I enjoy it and it's something the community enjoys, but it is a lot of work."
PHOTOS — Top: Pensacon CEO Mike Ensley poses with "Weird" Al Yankovic; Bottom: Ensley, center, on the set of "Nightmare Theatre" with Chip Chism, left, and Lemmie Crews.