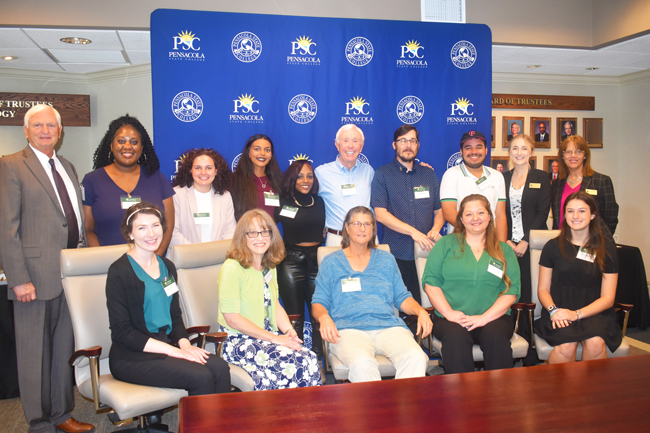 A half million dollars is a bunch of money. And at Pensacola State College, one of the consistently affordable colleges in the nation, that $500,000 goes a long way.
Pensacola business icon Sandy Sansing has donated over $500,000 in scholarships to more than 1,100 PSC students since starting a scholarship at the College in 2002.
Ten of the 28 2022 "Sansing Scholars" met with Sansing at an annual pizza luncheon held Thursday, Oct. 27, in the Dona and Milton Usry Board Room on the Pensacola campus. The College hosts the event each year to allow Sansing to meet and chat with some of the scholarship recipients.
"He's really a good man and does a lot for the community,'' said scholarship recipient J.R. Welch, a PSC Engineering Technology student who will graduate in May. "It's awesome to be able to receive this scholarship because it proves all the hard work is paying off."
Sansing is a PSC alumnus, graduating in 1967 when the College was still called Pensacola Junior College. He attended the College on a golf scholarship working while attending school.
Sansing owns 11 automobile dealerships along the Gulf Coast. He was recognized by Time magazine in 2016 as Florida's "Dealer of the Year" and has won the "Nissan Award of Excellence" 10 times.
Sansing's face has been recognizable for years due to his many commercials featuring Gulf Coast locales, organizations, people and even zoo animals. He and his family sponsor more than 55 youth baseball teams. Sansing is a partner in the Communities Caring at Christmas program ─ just one of his many philanthropic ventures.
"He has always been a great friend to the College and the community,'' he said. "He gives not only to PSC, but to numerous worth organizations and endeavors in the area."
Sansing gave the "Sansing Scholars" plenty of motivational advice, including warnings about expectations.
"You will start at the bottom,'' he said. "The only place I know where you start at the top is digging a ditch. It's through hard work and dedication and a positive attitude that you find success and move up."
The 2022 Sansing Scholars are:
Anastasia Chri Bixby
Lamontah Curry
Alan Drake
Danielle Hammer
Chalatia Hayes
Pamela Perceval
Casey Tavernier
Elizabeth Vandyne
Jessica Vega
Gary Welch
Jacob Wynn
Carlie Jeffries
Alexandra Samuel
Amanada Lynn Cash
Madisan Martinez
Lisa Pressley
Nikolas Randall
Teala Reguindin
Matthew Reynolds
Jorge Sosa‐Pineda
Taylon Stokes
Brenna Williams
Olivia Wright
Marcus Baldwin III
Zahria Brown
Randy Bryant
Megan Doan
Roxann Stake