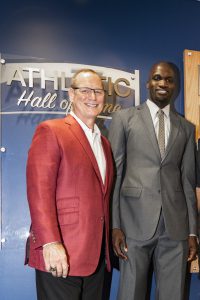 More than 100 fans turned out Tuesday night to meet and greet a couple of Pensacola State greats as well as current student-athletes during this year's Pirate Experience.
The 2019 Athletics Hall of Fame inductees ─ Joel Anthony and Bob Marlin ─ were special guests at the annual event held in Hartsell Arena. The two – a former NBA basketball player and Division 1 coach ─ were among 10 Pensacola State student-athletes, faculty, coaches and friends inducted into the Hall of Fame in February.
Anthony thanked Pensacola State for giving him a start, and was especially appreciative to former basketball coach, Paul Swanson, for a taking a chance on "young man from Canada."
"I had never heard of Pensacola, couldn't pick it out on a map but I found a home and a start here," he recalled. "I've had a successful career and opportunity to provide for my family ─ all thanks to Pensacola State College."
Anthony's mother also expressed gratitude to the College.
"My mom couldn't be here tonight but she wanted me to tell you all 'Thank You,' and convey what a proud moment it is to her for me being inducted into the Hall of Fame," Anthony added.
Marlin echoed many of Anthony's sentiments, and told the current student-athletes to "give it their all" while a Pensacola State Pirate.
"You have all of the support you need right here in the faculty and staff at Pensacola College to thrive and succeed in life," he said.
PSC Athletic Director Bill Hamilton was especially glad that Anthony and Marlin made it to the event.
"We are so glad they joined us tonight. Neither was able to attend the induction ceremony but committed to joining us at this year's Pirate Experience," Hamilton said.
"Paul Swanson represented Anthony and Coach Marlin's son, Matt, stood in his stead during the February ceremony. We are so happy they will be on hand as we kick off another year of Pirate Athletics."
Along with meeting the 2019-2020 Pirate student-athletics, attendees also heard previews of the upcoming seasons from Softball Coach Lynsey Angus, Women's Basketball Coach Clenita Bedford, Women's Cross Country Coach Julie Burger, Volleyball Coach Jennie Belarmino, Baseball Coach Bryan Lewellyn and Men's Basketball Coach Pete Pena.
Some fans even toured the College's athletic facilities.
Anthony played basketball for the Pirates from 2002-2004. He transferred to the University of Nevada, Las Vegas, where he was named the Mountain West Conference Defensive Player of the Year.
After signing with the Miami Heat, Anthony helped the team win back-to-back NBA championships in 2011-2012 and 2012-2013. He also played for the Boston Celtics, Detroit Pistons, San Antonio Spurs and the Milwaukee Bucks. Anthony now plays for Argentina's San Lorenzo de Almagro basketball club league.
Marlin was a Pensacola State basketball coach from 1990-1995. In 1993, he led the College to the national junior college championship and was named the NJCAA National Coach of the Year. In his five seasons at Pensacola State, Marlin compiled a 123-35 record.
After leaving Pensacola State, Marlin went on to coach as an assistant at the University of Alabama, and head coach at Sam Houston State University. He is currently head coach at the University of Louisiana at Lafayette.