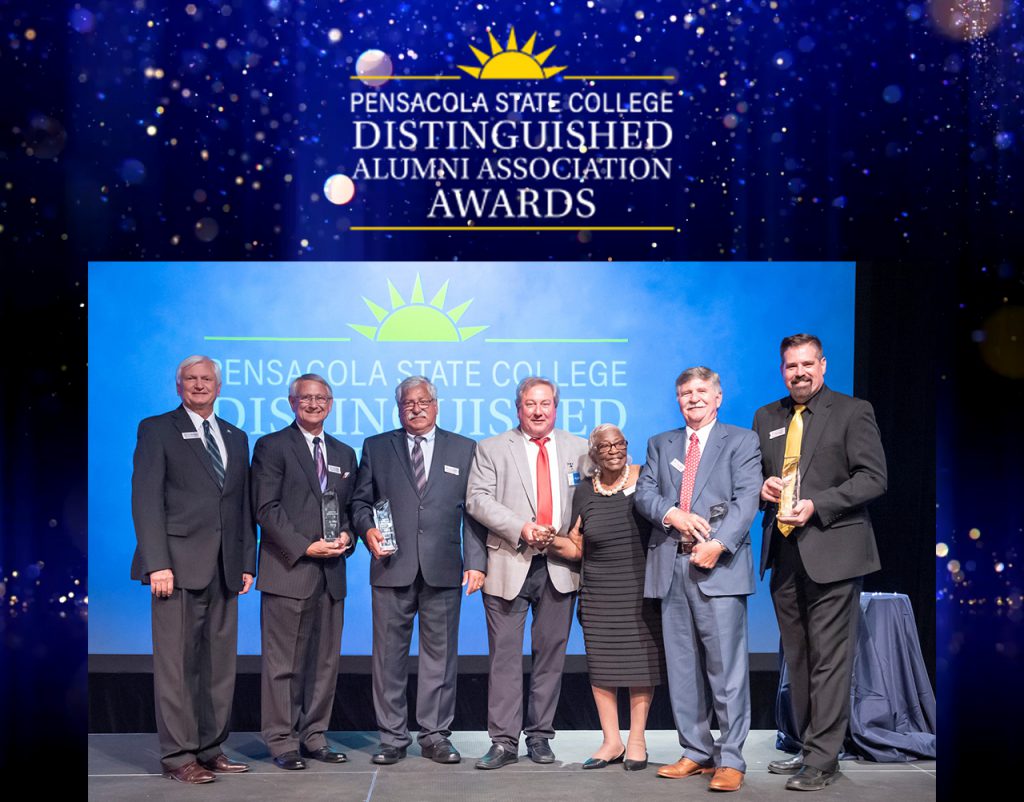 The five honorees recognized at the Pensacola State College Distinguished Alumni Association Awards Gala on Saturday, June 11, have not only made the College better. They have improved their communities as well.
"This event celebrated the achievement of outstanding individuals," said Hailey Lotz, PSC Executive Director or Development, Alumni and Athletics.  "It was about our heritage and history. We gathered to recognize greatness and honor individuals who have shown dedication to a higher purpose."
The award recipients are:
Lifetime Achievement – Dr. Paul Szuch: This award was presented to an alumnus who has reached state, regional or national recognition and represents the highest level of achievement in their profession or service. Szuch is the retired president of Lamar Institute of Technology.
Hometown Hero – The Honorable Marie Young: This award was presented to an alumnus who has achieved a measure of success within the College's service area and who has demonstrated notable community involvement. Young is a beloved educator and former Escambia County Commissioner whose community involvement is legendary.
Against the Odds – Gregg Beck: This award was presented to an alumnus who has achieved success despite financial, sociological or physical adversity. Beck overcame a tough childhood to become an entrepreneurial and business success.
Spirit of Pensacola State College – Gerry Goldstein: This award was presented to an alumnus who exemplifies the highest standards and has made a lasting, significant impact on the lives of others through service to the College and community. Goldstein is a successful businessman and educator who became a leader in the investment banking world and who helped raise funds for scholarships for the past 12 years.
Road Less Traveled – Mary Hoxeng: Presented to an individual in the community who follows their heart in a direction that is challenging, uncertain and the rewards are beyond expectations. Hoxeng is a media magnate in Northwest Florida and known for her community involvement.
PSC President Ed Meadows also honored alumna and PSC associate professor and coach Carla Williams, who was recently killed in a domestic violence tragedy.
The five Distinguished Alumni Association Award recipients have helped Pensacola State College in numerous ways, from endowing scholarships to volunteering to organize and host events that raise money for scholarships that benefit students.
Brent Lane, program director for Cat Country 98.7, was master of ceremonies for the event held in the Jean and Paul Amos Performance Studio at WSRE-TV on the Pensacola campus.
During the gala, video tributes to all five recipients were broadcast and featured community and business leaders and elected officials including Pensacola Mayor Grover Robinson IV and notable attorney Jim Reeves.
Lawrence Powell, Pensacola City Neighborhoods Administrator, was one of the speakers at the event.
He said the event was "historic in the fact that we're going to have the opportunity to add to the roster of the many, many individuals who have served this community selflessly and with many sacrifices."
Here's a closer look at the recipients of the PSC Distinguished Alumni Association Awards:
When Gregg Beck's father died in the late 1960s, the 17-year-old left Pensacola Technical High School to get a job and bring a paycheck home to the family.
But he wasn't going to give up on his education, so he enrolled at Pensacola Junior College High School in 1967.
"This enabled me to work during the day and go to school at night,'' Beck recalled. "During the time I went to PJC, I maintained a work schedule of 60 hours a week for $60 a week. My first job was as a bag boy at Pleez-ing Food Store."
Beck's work ethic and entrepreneurial spirit have been with him since he was a 10-year-boy selling dyed rabbits and newborn chicks at Easter and bundles of mistletoe at Christmas. Later, he would operate a coin laundry, a sandwich shop and a clothing store.
In 1981, Beck created BECK Property Company/Beck Partners, which has been a dominant commercial broker in Pensacola ever since. The firm's development/redevelopment projects include 33 Brent Center, Shops of East Hill, 151 West Main Street and Bayou Corporate Center. The company is now run by Beck's son, Justin Beck.
"Jobs are a big deal to me,'' Gregg Beck said. "You never forget where you worked or who hired you."
Beck's path has been varied and eclectic. He joined the U.S. Army Florida National Guard in 1968 while still attending night school at PJC High School. Beck worked for U-Haul in Mobile and Dothan in Alabama, and Orlando. He sold dealerships to service station owners and serviced their equipment.
"I have always been a salesman at heart,'' he said.
It was in Orlando where Beck earned his real estate license. He returned to Pensacola in 1974 and worked with various firms before starting his own company. It was "a hungry kid and a mortgage" that kept him motivated.
Beck said he is grateful to PJC, now Pensacola State College, for helping guide him as a teenager.
"I really enjoyed going to PJC,'' he said. "I was so lucky to have some of the best teachers I had ever had. They treated me like an adult."
Beck has been married to Janice Elaine Smith Beck since 1972. The couple has two children – Justin and Autumn. Both children spoke at the awards gala and announced that they are establishing an entrepreneurial development scholarship in their father's honor.
Beck is an appointee on the RESTORE Advisory Committee which oversees the distribution of funds paid by BP to recover from the 2010 Deepwater Horizon oil spill. He also serves on the Escambia County Zoning Variance Board and supports the Fred Waters Baseball Clinic and the conservation groups ─ Longleaf Alliance and Conservation Florida.
The Honorable Marie Young is a Pensacola legend who has dedicated her life to education and the community.
She has served on the Pensacola City Council and was the first African American woman to serve on the Escambia County Board of County Commissioners. But even before she was an elected official, Young had already built a legacy of service ─ having taught in the Escambia County School District for more than 40 years.
"I loved teaching and always strived to be a great teacher,'' she said. "My goal was to make sure my students were becoming the best that they could be."
She eventually became a school administrator and, later, a principal.
Young is a Pensacola native who graduated from Booker T. Washington High School in 1951 at age 15. She attended Booker T. Washington Junior College graduating in 1953. The College would merge with Pensacola Junior College in 1965.
Young is a lifetime member of the PSC Alumni Association Board of Directors and is a Lifetime Charter Member. She was voted to the Emeritus Board position in 2020.
Robinson said Young "cares about helping people. I can't think of anyone who should be recognized by their hometown more than Marie Young."
Young also earned a bachelor's degree in elementary education at age 19 from Florida A&M University. She later received her master's degree in elementary education from Atlanta University.
Young's entry into politics came in 1997 when she was elected to the Pensacola City Council. Three years into the term, she was appointed by then-Florida Gov. Jeb Bush to fill the District 3 Escambia County Commission seat that had become vacant. She would be elected to the position in 2004 and re-elected in 2008. Following her retirement in 2012, the Escambia County Commission honored Young's legacy with the naming of the Marie K. Young Wedgewood Community Center and Park in the Wedgewood community.
Her community involvement is vast. Young has served on boards for the WSRE-TV Foundation, the Council on Aging of West Florida, the Area Housing Commission and the Community Equity Investment Board.
Young met the Rev. James S. Young at his church, Mount Canaan Baptist Church, in the late 1950s. They were married in 1960. Rev. Young was a prominent area civil rights crusader who died in 2018.
Young's commitment to service and the community has been lifelong.
"I think it is important to be a servant to your fellow man,'' she said. "I've been blessed with a servant's heart and want to serve others. You can't be an effective leader unless you show some real concern for other people."
Gerry Goldstein's commitment to Pensacola State College runs deep ─ deep in the woods.
A successful businessman and educator, Goldstein launched the popular annual PSC Quail Hunt, a major fundraiser for the PSC Alumni Association matching funds program. He also hosts the PSC Alumni Association's Annual Quail Hunt and Pheasant Shoot each fall.
Each of the events typically generates enough funds to match another new PSC Alumni Association scholarship.
If that was not enough, Goldstein and his wife, Mitzi Goldstein, along with friends ─ retired U.S. Army Brig. Gen. John Adams and his wife, Dr. Laura Magan ─ established an endowed scholarship for students in any field of study.
A Pensacola Junior College graduate, Goldstein also is a former member of the PSC Foundation Board of Governors and is a current member of the PSC Alumni Association Board.
He is broker/principal of Salomon-Goldstein Properties and is a Visiting Instructor in the University of West Florida College of Business.
"PSC gives students the opportunity to find their path. For me, the College gave me the opportunity to fix a bad decision of not taking my education seriously when I should have. It gives students the opportunity to advance in their education while still looking for direction," said Goldstein when asked about his commitment to the College.
Goldstein spent 10 years on Wall Street in various roles in the investment banking world. Early on he was a short-term money trader specializing in Banker's acceptance, Certificate of Deposits and Treasury bills and used the Eurodollar futures market to hedge cash positions. He also collaborated with team members to build two government-trading operations. Before returning to Pensacola in the early 1980s, Goldstein worked on the institutional sales desk at the Merrill Lynch headquarters in New York.
At UWF, he created the Master Level Case Competition, a unique program that brought Fortune-rated companies to the UWF campus.
Goldstein's latest academic project is focused on PSC's College of Business. PSC students who pursue a Dr. Marjan Mazza Bachelor of Applied Science Degree – Business and Management, will be allowed to take the first two courses in UWF's MBA program while still at PSC. Upon completion, students will have a direct path to UWF's MBA degree and will have finished about 10 percent of the MBA program.
Dr. Paul Szuch has devoted his life to education. His own entry into higher education came in the 1960s when Szuch earned an Associate of Arts degree from Pensacola Junior College.
His educational journey continued for decades, culminating in Szuch serving as president of the Lamar Institute of Technology in Beaumont, Texas. He served honorably as Lamar Institute's president from 2006 until his retirement in 2016. Under his leadership, Lamar Institute of Technology reached many milestones, including the establishment of dual enrollment programs and a Distance Learning Academy.
Szuch also led increases in state funding and private giving at the Texas institution and added numerous academic degree programs. Upon his retirement, the Texas State University System Board of Regents renamed the Lamar Institute of Technology multipurpose building as the Paul and Connie Szuch Multipurpose Center in honor of Szuch and his wife, who served as an unofficial ambassador for the school and was a valued and active member of the Beaumont community.
The Board of Regents also noted that Szuch had "presided over an academic renaissance at Lamar Institute of Technology."
Joanne Brown, Lamar Institute of Technology Major Gifts Officer, called Szuch "an inspiration."
"He is a fearless innovator and developed a culture of quality" at Lamar, she said.
His first teaching job came in 1968 when Szuch joined Escambia High School's faculty as a business education instructor and assistant baseball coach.
Szuch then spent a year at the University of Southern Mississippi as a Fellowship Graduate Instructor. From 1970 to 1978, Szuch was a business instructor at Okaloosa-Walton Community College, where he was chair of the Business Department.
He also taught briefly at the University of West Florida before taking a leadership position in 1989 at Pasco-Hernando Community College in New Port Richey. Szuch remained at Pasco-Hernando, which later became Pasco-Hernando State College, until 2006. He served in numerous positions at the college, including Assistant Dean of Instruction, Provost, Vice President of Academic Affairs and Vice President of Education Services.
Szuch received a Bachelor of Science degree in Management/Business Education from the University of West Florida. He earned his Master of Education in Business Education degree from the University of Southern Mississippi and his Doctorate of Higher Education degree from Nova Southeastern University.
Mary Hoxeng just seems like a Pensacola native. That's how deep her involvement and commitment to Pensacola are, even though she and her husband Dave Hoxeng, didn't move to the area until 2002.
But since their arrival, the media power couple have dedicated themselves to making the community better and stronger.
The couple owns four local radio stations ─ CatCountry 98.7, News Radio1620/92.3, WEBY-ESPN 1330/99.1 and the recently-launched Playlist 94.5.
Mary Hoxeng is general manager and chief operating officer of all four stations, all of which boast a strong local flavor and community commitment. The Hoxengs have been supporters of the College since their arrival and recently established the Dave and Mary Hoxeng Endowed Scholarship, which will provide educational opportunities for journalism students.
She is a PSC Alumni Association Lifetime Charter Member.
"I'm a big believer in what PSC does," Mary Hoxeng said. "And I know how important community colleges are. For some people, community colleges are their only opportunity because they're affordable."
Also, Mary Hoxeng serves on the Escambia County Tourist Development Advisory Council, the Escambia County Sheriff's Foundation Board and the Florida Five Flags Fiesta Commission. She also serves on the board of Five Flags Rotary Club, the Council on Aging of West Florida, ARC Gateway and is the Leadership Pensacola Alumni Board Chair.
Mary Hoxeng was previously Membership Chair for Impact 100 Pensacola Bay Area. She is a Rotary Foundation Paul Harris Fellow and was one of the Pensacola News Journal's 2010 "Women of the Year" award recipients.
In 2009, Mary and Dave Hoxeng were honored by the Greater Pensacola Chamber with the "Business Leaders of the Year" PACE Award. In 2021, the couple won the "Spirit of Pensacola" PACE Award.
Mary Hoxeng grew up in New York City, the youngest of six children and immediately went to work after 12 years of Catholic schools. She would later attend college at night and graduated summa cum laude at age 31 with a degree in advertising and communications. She met her husband in 1979 and the couple married in 1988.