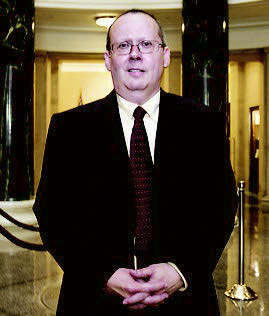 For decades, Craig Waters has credited his two years at then- Pensacola Junior College with giving him the start he needed for a career of more than 30 years now as a lawyer and communications director at the Florida Supreme Court.
Waters especially mentions his studies in English, history and journalism while attending PJC. According to Waters, he never could have succeeded in his long public service career without the tutelage of PJC professors Clarice Burrell, Ted Carageorge, and Grace Earnest along with The Corsair newspaper advisor Linda Bauer.
"These four PJC teachers gave me a comprehensive background in language and journalism skills and textual analysis, as well as a deeper understanding of the changing currents of politics and history," he said.
After transferring to Brown University from PJC in 1976, Waters went on the work as a political and court-beat news reporter with the Pensacola News Journal before attending law school at the University of Florida. He was hired right out of law school by the first woman on the Supreme Court of Florida, Justice Rosemary Barkett, as her staff attorney in March 1987.
He moved into court administration in 1996 serving first as the executive assistant to then Chief Justice Gerald Kogan. Kogan eventually appointed Waters communications director of the state's highest court. At the time, Waters' challenge was to establish the first-ever public communications office.
His background in journalism and Florida politics soon became far more valuable to the high court than the routine legal work. All of this led to the biggest challenge of Waters' career — serving as public spokesperson for the Florida Supreme Court when journalists from over the world descended on Tallahassee during the legal appeals over Florida's disputed 2000 presidential election.
Appeal after appeal came to the Florida Supreme Court in fall 2000 as then-Vice President Al Gore sued then-Texas Gov. George W. Bush over Florida's uncertain presidential election results. After the dust settled, Waters received many honors and awards for his work in the election disputes.