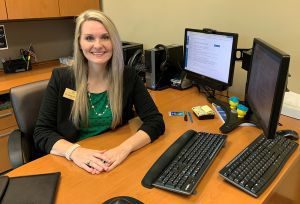 By Mike Suchcicki, Pensacola State College
Kathleen "Katie" Hudon is almost apologetic as she pauses after a sentence to say, "I chase rabbits in conversations."
True, she bounces around a lot, subject-wise, as she describes her work as Director of Student Affairs for the Warrington campus, but it's not from absent-mindedness or a flight of fancy. Rather, she's diligent about giving every important subject its due.
And there are a lot of subjects. After all, not only does she have a lot on her proverbial plate, but that plate is huge, and getting larger by the day.
Her day-to-day functions include support of the Warrington staff, oversight of admissions and advising, as well as the functions of the L.I.F.E. Fitness Center, policy and process development, service on the Pirates CARE team, and authorization over recruitment, admissions, dual enrollment, registration, advising/counseling, student support services and career development.
Add to all that the recent announcement that she will be leading the Student Activities department for all campuses, guiding the department budgeting process, overseeing department marketing and other administrative duties.
Not only is Hudon more than happy to be taking on all these tasks, she's also thrilled that they're happening at Pensacola State College, where she received her Associate of Arts degree.
"Back in my time as a PSC student, the motto was, 'You can get there from here'," she says. "It's interesting for me to see how I've come full-circle from PSC helping me as a student to me now having the opportunity to serve others who were in my situation, and students who have even greater needs or who are motivated. Interestingly I feel like my getting 'there' was to get back 'here'."
Hudon recently was named one of Inweekly magazine's Rising Stars for 2020. In January the Milton native was selected as the Santa Rosa County Woman of the Year for 2019-2020. In December of last year, she was named as a Pathways Navigator through the Florida Department of Education and the Florida College System in support of the Florida Student Success Center's Florida Pathways Institute.
"Being in the 2020 Rising Star class makes me so incredibly grateful to work at such an amazing place as PSC with caring, truly supportive people," Hudon says. "Being surrounded by individuals who encourage others to reach their potential makes me want to do more, create more, and give more here at PSC and in the greater Pensacola community."
Hudon's path from there to here also has included positions as administrator and instructor at University of West Florida and time practicing law in both Alabama and Florida. She has a Juris Doctorate, an Education Specialist degree and an Education Doctorate, both in curriculum and instruction, two bachelor's degrees and a master's in communication arts.
"Other folks have a linear road, but mine looks a little more scattered," Hudon says. "But I feel like it makes sense to me. I feel that I can serve students in a lot of ways."
Since joining the PSC family in November of 2019, Hudon already has experienced events that have her proud to be a Pirate.
For instance, she enjoyed the recent Veterinary Technology Program open house, which occurred on her second week on the job.
"I saw live animals and I learned how, through agreements with local animal shelters, we are able to make pets more adoptable as students in the Vet Tech Program provide them with oral care, spaying and neutering, ear cleaning, baths and other services."
She also has been happy with the outreach work to market the Warrington L.I.F.E. Fitness Center.
"We've engaged with more than 500 students and employees, learning about them and involving them with healthy activities. Overall, we see bright, industrious and capable students with exciting plans and dreams for their futures."
Hudon says she doesn't have a lot of time for hobbies and entertainment, but instead spends her time volunteering.
"I like to help folks," she says.
She'll be doing some of that today, Valentine's Day, as she joins others in the Student Affairs department in delivering homemade valentines to veterans and service members at a veterans' hospital.
Overall at PSC, Hudon says, she's been inspired by the students with whom she's had the opportunity to work.
"Although I believe every student is different, we have some highly motivated students at the Warrington campus," she says. "Every student you meet seems to be juggling many of life's demands simultaneous to pursuing his or her degree. It's humbling to help them get to where they are going, and I'm proud that we are able to offer these go-getters exemplary professors, state-of-the-art simulation rooms and labs, and caring and approachable advisors and staff."