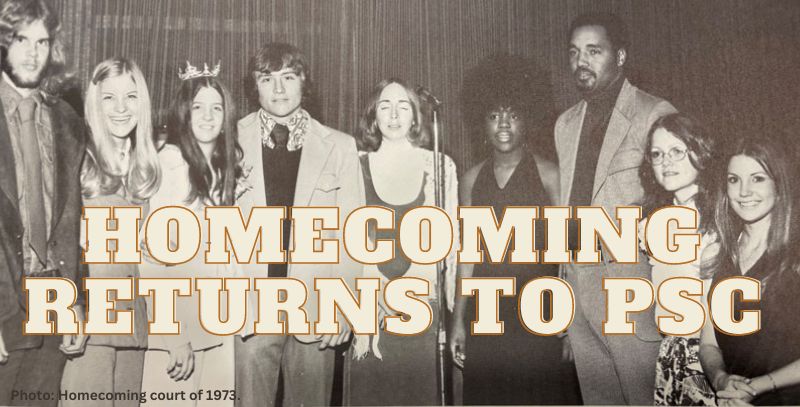 Why not a Pensacola State College Homecoming? Why did we ever stop?
The College is bringing back some old Pirate swagger with a Homecoming 2023 celebration complete with tailgate parties, sporting events, aerial basketball performers, a White Out Glow Dance Party, a Homecoming Court and the crowning of a Homecoming King and Queen.
It will be the College's first Homecoming since the early 1970s when the institution was Pensacola Junior College. It became Pensacola State College in 2010.
"It's the first time in decades, so we're excited,'' said Jon Stephenson, Associate Vice President of Student Affairs. "Homecoming can be an impactful event for our students to be engaged with the College and have a voice on campus. It's to bring a little more school spirit to PSC."
A highlight of Homecoming 2023 will be the introduction of the Pirate Homecoming Court and the coronation of the king and queen during halftime of the women's basketball game against Northwest Florida State College on Wednesday, Feb. 22.  The Air Elite Dunkers will perform an exhibition during halftime of the men's game.
The women's game begins at 5:30 p.m. and the men's game at 7:30 p.m. in Hartsell Arena. After the men's game, the lights will go down for a Glow Dance Party in the Hartsell Arena.
Students can apply to be on the Homecoming Court through 3 p.m. Friday, Feb. 10, at https://www.pensacolastate.edu/homecoming/.
A Homecoming Court Meet and Greet is set for 11 a.m.-1 p.m. Monday, Feb. 13, in the Delaino Student Center, Building 5, on the Pensacola campus. The event will feature "Speedfriending" where students can learn more about Homecoming Court candidates.
Online voting for 2023 Homecoming King and Queen will be held Monday, Feb. 13,  through 3 p.m. Friday, Feb. 17. To vote, go to https://www.pensacolastate.edu/homecoming/.