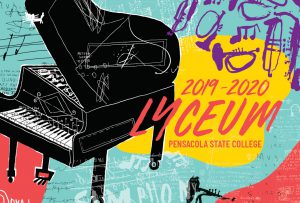 Explore the many worlds of Lyceum — concerts, comedy, drama, dance, exhibitions, and lectures featuring nationally and internationally recognized speakers and performers as well as local talent.
Initiated in 1958 by Performing Arts Chair John T. Venettozzi, the PSC Lyceum Series is the oldest continuous cultural arts program in the area.
T
he 2019-2020 Lyceum calendar is now available.
TICKET INFORMATION
PERFORMING ARTS
7:30 p.m. | Ashmore Fine Arts Auditorium, Pensacola campus
FREE PSC students | $7 PSC Alumni Association, PSC Seniors Club, PSC faculty and staff | $9 Seniors 60-plus, students and children $11 General admission
Purchase tickets online at PensacolaState.edu/mt
or at the Lyceum Box Office, Building 8, Room 861.
Box Office Hours
8:30 a.m. – 4 p.m. Monday-Friday
Monday-Thursday (May-July)
VISUAL ARTS
All original exhibitions, demonstrations, workshops, gallery talks, tours, and receptions at the Anna Lamar Switzer Center for Visual Arts are FREE! Located within the Anna Lama Switzer Center for Visual Arts are the Charles W. Lamar Studio (Lamar Studio) and the Anna Lamar Switzer Gallery (Switzer Gallery).