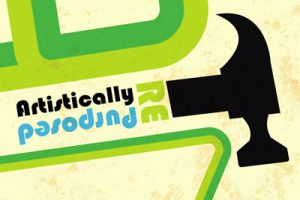 Penair, Pensacola State, Pensacola ReStore, & Pensacola Habitat Present Artistically Repurposed Art Show
Pensacola, FL (May 15, 2017) – A new art exhibit begins this week at Pensacola State College. The more than 30 pieces of art are part of a new and unique art show from Pensacola Habitat for Humanity, the Pensacola ReStore, Penair Federal Credit Union, and Pensacola State. Named Artistically Repurposed this art show and auction will feature work from talented students and faculty, showing off the power of recycled products in the creation of beautiful two-dimensional and three-dimensional pieces. Set to take place at the Anna Lamar Switzer Center for Visual Arts, the event's exhibition runs from May 15 to May 25. On the 25th, Pensacola Habitat and Pensacola State will hold an auction and reception from 5 pm until 8 pm at the Anna Lamar Switzer Center for Visual Arts.  Faculty jurors will award deserving artwork with First through Third and Best of Show. Cash prizes are awarded to each winner. Faculty pieces will be included in the auction, but not the juried show.
The development of the art show came out of a primary desire to highlight the importance of recycling and reusing materials and how buying your recycled goods through the Pensacola ReStore can help both the planet and address housing issues in the local community. Habitat ReStores around the country have planned and executed repurposed art shows, but few have the same level of involvement seen in Artistically Repurposed. With the sponsorship of Penair Federal Credit Union and Pensacola State College, the hope is to create a unique, signature event that the students look forward to every year.
"With all the different types of items and the creative ideas from the students picking up materials from the store, we are going to have a unique and extremely competitive silent auction," explains Connie Bryars, Director of Retail Services. "We are excited to see so many one-of-a-kind, exceptional pieces! You have to make sure to see these exhibits while they are on display."
What:   Artistically Repurposed Art Show and Auction
When:  Art Show, Monday, May 15th  – Thursday, May 25th; Auction, May 25th 5 – 8pm
Where:   Anna Lamar Switzer Center for Visual Arts
Why:  To highlight the importance of recycling and reusing materials while showcasing art pieces from students and faculty of Pensacola State College
For more information on this event, please contact Connie Bryars, Director of Retail Services, at 850-476-0001.
About Pensacola Habitat for Humanity
Founded in 1981, Pensacola Habitat for Humanity is a non-profit, ecumenical, Christian ministry whose purpose is to improve communities through sustainable partnerships, such as through their home buying opportunities. Housing and local economic issues are important focuses for the organization, especially with families of modest to moderate income in Escambia and Santa Rosa Counties.  Having built and renovated over 1,300 homes, Pensacola Habitat seeks new and innovative ways to positively impact the community through various meaningful projects, including their Neighborhood Revitalization program. Pensacola Habitat for Humanity and its programs are not free; their products are earned by qualified members of the local community.  For more information, visit www.pensacolahabitat.org.
About NeighborWorks America
For more than 35 years, NeighborWorks America has created opportunities for people to improve their lives and strengthen their communities by providing access to homeownership and to safe and affordable rental housing. In the last five years, NeighborWorks organizations have generated more than $24.5 billion in reinvestment in these communities. NeighborWorks America is the nation's leading trainer of community development and affordable housing professionals.