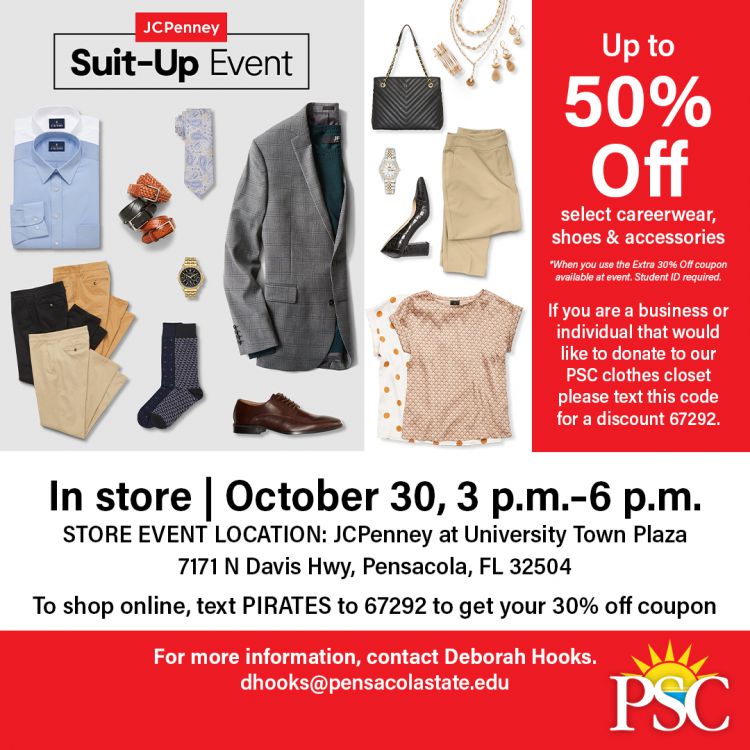 You don't have to be a Pensacola State College math major to know that 50 percent off any price equals big savings.
The third annual PSC/J.C. Penney "Suit-Up" event will be held 3-6 p.m. Sunday, Oct. 30, at the JC Penney in University Town Plaza at 7171 N. Davis Highway.
PSC students, administrators, faculty, staff and alumni can text "Pirates" to 67292 to receive a 30 percent off coupon to be used at the event. With the discounts and sales already in place for the "Suit Up" event, Pensacola State shoppers can receive up to 50 percent off the total price with the use of the coupon.
"I think it's a great event, especially for students who need help with attire for job interviews,'' said Deborah Hooks, PSC Director of Career and Technical Education who helps organize the event. "They can have a hard time finding interview attire they can afford, especially now."
The first PSC "Suit-Up" event was held in 2019, but the event was discontinued in 2020 and 2021 because of COVID-19. Last year, a virtual "Suit Up" event was held, Hooks said.
"The last one was virtual and not as popular,'' Hooks said. "We're really excited about this."