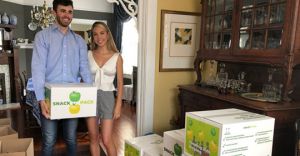 A Pensacola State College alumna is making a difference in the community by helping to feed those in need.
Kaitlin Santiago, a 2017 Pensacola State graduate, recently moved back home from Washington, D.C., because of the COVID-19 pandemic and, along with Andrea Dias – another former resident ─ started Snack Pack in April. So far, the two have delivered food boxes to more than 200 Escambia County and Santa Rosa County families in need.
The program initially began as a way to make sure children who depended on school breakfasts and lunches still received nutritious foods. The Snack Pack boxes are filled with enough fruit, vegetables, protein, snacks, water, etc., to feed a family for a week.